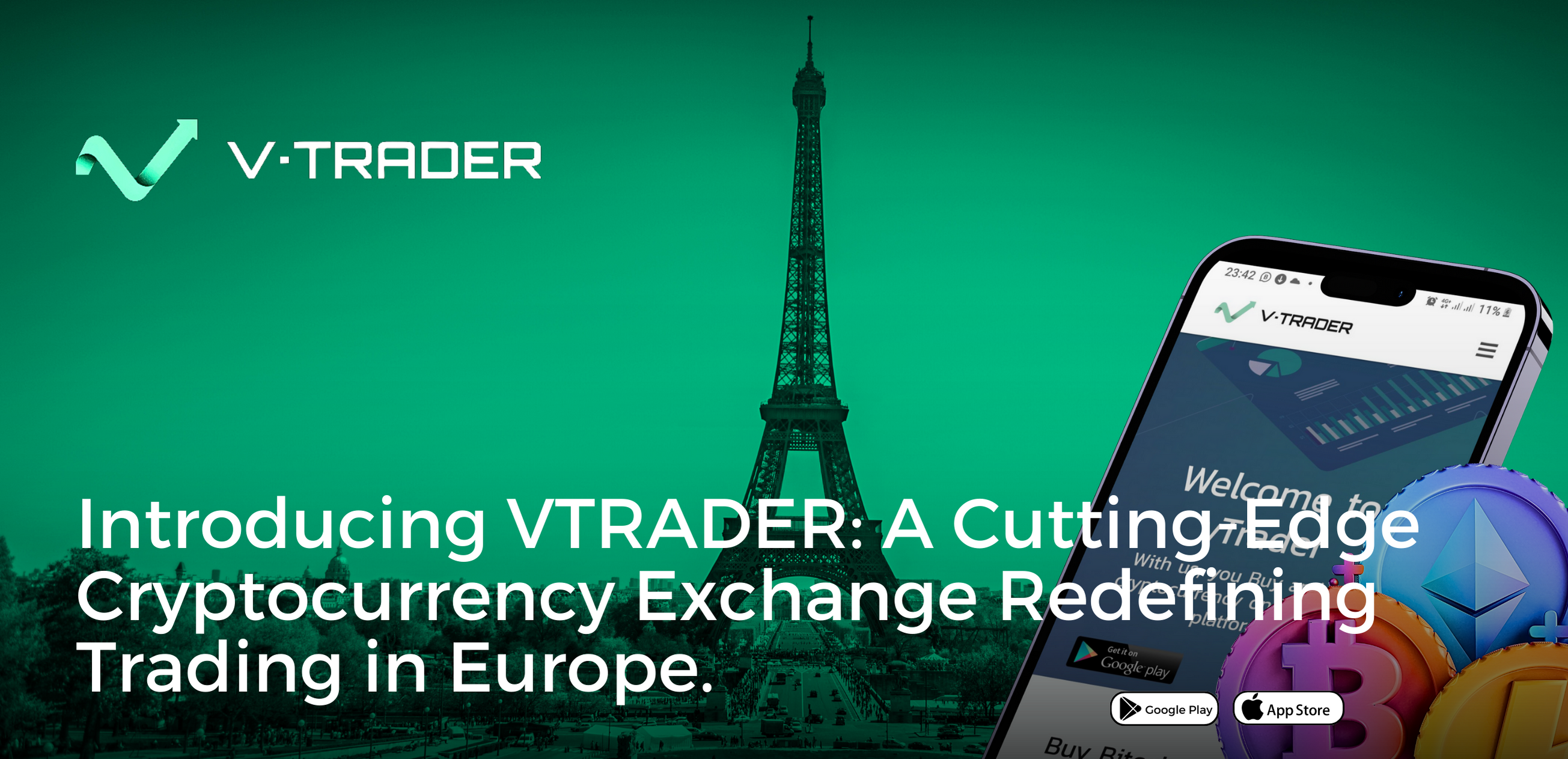 VTRADER, a dynamic and innovative cryptocurrency exchange, is thrilled to announce its official launch in Europe. VTRADER is revolutionizing the cryptocurrency trading landscape in Europe. With a focus on user-centric features, security, and an extensive range of cryptocurrencies, VTRADER is poised to become a leading player in the European market.
Designed to cater to both novice and experienced traders, VTRADER offers an intuitive and user-friendly platform that provides seamless trading experiences. The exchange is committed to providing unmatched security measures, ensuring the safety of users' digital assets. Key features of VTRADER include:
Diverse Cryptocurrency Selection: VTRADER boasts an extensive list of supported cryptocurrencies, including: bitcoin, ether, doge coin, tether, cardano, chainlink , aave, uniswap, ripple, litecoin, dai, solana, the graph, maker dao, USDC, polygon, cosmos, algorand, avalanche, ape, meme coins and many more.
User-Friendly Interface: The platform's intuitive interface is designed to make trading accessible and hassle-free for traders of all levels, from beginners to seasoned professionals. VTRADER has mobile apps on both the Apple App Store and the Google Play Store.
Advanced Trading Tools: VTRADER provides a suite of advanced trading tools and charts to empower users with the insights needed to make informed trading decisions. VTRADER even launched its own satellite app called the Ethereum Gas Tracker that sends users alerts in Ethereum gas fees so they can make prudent decisions for when to make trades or perform transactions in DeFi, NFTs, airdrops or mints.
Robust Security: Security is a top priority at VTRADER. The exchange employs state-of-the-art security protocols, including cold storage and two-factor authentication (2FA), to safeguard users' assets. VTRADER even uses liveness tools to make sure customer's accounts are not compromised.
Liquidity and High-Speed Execution: VTRADER is committed to offering high liquidity and rapid execution speeds, ensuring traders can capitalize on market opportunities without delay. Customers can trade fiat currencies like US Dollars, Euros, or Naira to buy, sell or trade BTC, ETH, DOGE, USDT, USDC, ADA, LINK, AAVE, UNI, XRP, LTC, DAI, SOL, GRT, MKR, MATIC, ATOM, ALGO, AVAX, APE and many more meme coins as well.
24/7 Customer Support: VTRADER takes pride in offering round-the-clock customer support with live chat on our website. For those just starting in cryptocurrency, we are there always to help you along the way. Even if you just want to check the price of bitcoin or cryptocurrency in USD, Euro, Naira, or even learn how to invest in crypto currency or how to know what cryptocurrencies to buy.
Payment Options: Users can buy cryptocurrencies with credit cards, bank transfers, wire deposits from any country making it the easiest way to buy bitcoin, ether or cryptocurrency.
"We are excited to unveil VTRADER to the European market. After having launched in Africa last month, we are keeping the momentum going. Our mission is to provide traders with a seamless and secure platform that meets their evolving needs. By combining cutting-edge technology with a user-centric approach, we aim to redefine cryptocurrency trading in Europe." Stated the Founder of VTRADER, also adding "we plan to add leverage trading in August, followed by making entry into the US market later this year–stay tuned because big things for VTRADER are coming."
The launch of VTRADER comes at a time when the interest in cryptocurrencies is recovering. The demand for reliable and feature-rich trading platforms on the precipice of the bitcoin halving which has historically been the catalyst to start each previous bull market. VTRADER aims to be at the forefront of this digital revolution, setting new standards for excellence in the cryptocurrency exchange industry.
To learn more about VTRADER and sign up for an account, please visit https://vtrader.io/.
About VTRADER: VTRADER is a pioneering cryptocurrency exchange with offices in Bucharest, Lagos and New York. The exchange is dedicated to providing traders with a secure, user-friendly, and feature-rich platform for trading a diverse range of cryptocurrencies. With a commitment to innovation and security, VTRADER aims to empower users to participate in the exciting world of digital asset trading.
For media inquiries, please contact: [email protected] or join the conversation on Twitter or Telegram.